Content warning: This story contains references to sexual assault and may be difficult for some to read
Rep. Greg Murphy (R-NC), a man who believes the 2020 election was stolen, apparently also believes that rape doesn't exist – despite his personal connection to a sexual assault survivor.
Two days after the Supreme Court overturned Roe v. Wade and took away the federally protected bodily autonomy of every person with a uterus in America, Murphy responded to another person's response to President Joe Biden's tweet about the court's decision by saying "No one forces anyone to have sex." It's unclear what comment he was responding to since he deleted his tweet as soon as he started getting backlash for it.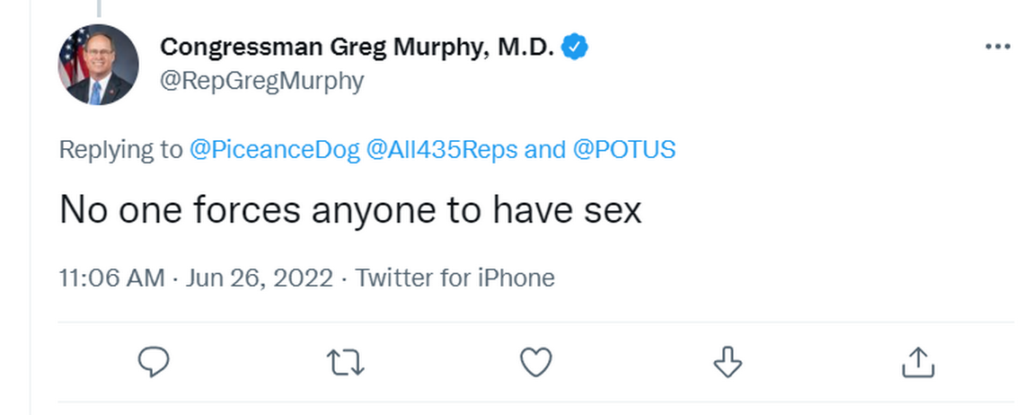 While that's obviously an absurd statement and an awful thing to believe, it's even worse when you realize that his own daughter, Caroline, was sexually assaulted while she was in college – and Murphy himself went to campus to help her fill out the report, according to a TikTok video posted by his daughter.
According to Caroline, beliefs and statements like her father's are why she "went no contact with him" and her mother "seven months ago and will never speak to them again."
In the video, Caroline refers to Murphy as "my sperm donor" instead of as her father and she also said that she "[doesn't] follow this man on social media for a very specific reason – because of bullshit like this," referring to Murphy's tweet. In a comment on the video, Caroline said she doesn't recognize Murphy as her father and rejects him as a parent.
She posted two follow-up videos on TikTok. In the first video, she explained why she didn't speak out earlier about her experience and her connection to the congressman from North Carolina's 3rd District. In the second video, she responded to those who doubted that she is Murphy's daughter by posting pictures of herself with Murphy from her childhood.
The congressman responded to a request for comment by television station WITN regarding his tweet, to which he responded:
"Sex is a term I've always used when dealing with consensual action. Intercourse when forced or nonconsensual is assault or rape, and that is abhorrent. I deleted the tweet when I noticed it was being misinterpreted or misconstrued. I regret any confusion this has caused."

Rep. Greg Murphy
Regardless of whether or not Murphy means it, he is still a vehemently anti-choice Republican who called the overturning of Roe v. Wade "a momentous day for the pro-life movement."
His daughter's beliefs couldn't be further from his.
"Women should always have the right to choose, regardless of any other circumstance, and that should always be true," Caroline said at the end of her first video.
The first video was published on June 30. Murphy has not made any statement in response to his daughter's videos.
The congressman's opponent in November, Democrat Barbara Gaskins, supports reproductive rights.
The National Sexual Assault Hotline is 1-800-656-4673. That number offers 24-hour confidential support to survivors.